Ornans:
— Hidden in the Valley of the Loue, this little town has a rich history. Here, you will cross the paths of Eugene Cusenier and the absinth; Pierre Vernier, the inventor of the measuring instrument of the same name; Gustave Courbet (1819-1877), the famous realist painter; his new museum opened in 2013 draws enthusiasts from all over the world.
Nicknamed the "little Venice of Franche Comte", Ornans is a charming city with its old houses on the shores of the Loue river.
Amateurs will enjoy the activities around the river, such as fishing, kayak, canoe…
Its ideal location allows hundreds of outings in the valley or on the rocks over Ornans. From the via ferrata, the most athletics ones will enjoy an outstanding view over the city.

Ornans is listed in the "le 100 plus beaux détours" de France Michelin guide.

- Events:
Every summer, the flee-market and the crafts days draw people from all around.
Every two years, the Pow Wow is the greatest Indian festival in Europe. The next edition will be held in october 2018.
The XTrem Loue is the mountain bikers place to be, during the first week-end of October.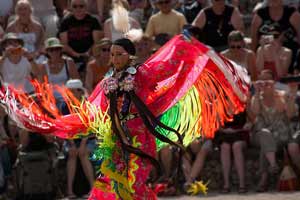 - POW WOW 2018 :
JOIN US FROM JUNE 29th to JULY 1st 2018
The town of Ornans will host the 5th edition of « Danse avec la Loue » (Dance with the Loue).
Internationally acclaimed event, the next Pow Wow "Danse avec la Loue" will be held in Ornans from June 29th to July 1st 2018.

This event, organized in collaboration with Four Winds, whose objective is to promote knowledge and a better understanding of Native Americans, allows everyone to meet, to exchange and understand a culture and its values. The Pow Wow originated with the Pawnee Indians, over two centuries ago, when the warriors met to dance and celebrate their feats. The other nations took up this tradition and it soon came to become an important familial gathering which gave the whole tribe the opportunity to meet, dance, sing, meet old friends and make new ones. Nowadays, Pow Wows usually gather several nations, such as the one in Ornans.
Ten nations from Quebec, from 55 communities as well as six ethnic groups from Guayana are invited for the 2018 gathering. Close to 50 native American are expected during this new edition. The program will include: dances, conferences, a concert, meetings, a native American craft market, several presentations (make up, reading…) and a food fair.
Hold the date in your calendar for the 2018 summer and don't miss the event!
L'EXTRÊME SUR LOUE 2018
The XTrem Loue is the mountain bikers place to be, during the first week-end of October.
Saturday 6 & sunday 7 Octobre
.
TOUS LES TEMPS FORTS 2018
Find all events around this year.